The LightLike Component Library contains all the different kinds of components needed to model a wide variety of optical systems. To make them easier to find and work with, the entire LightLike library is divided into six sublibraries: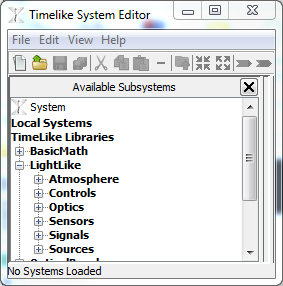 •Atmosphere - for modeling optical propagation through atmospheric turbulence or vacuum.
•Controls - for modeling control systems for tracking and adaptive optics.
•Optics - for modeling a wide variety of optical components and effects.
•Sensors - for modeling optical sensors, such as cameras and wavefront sensors.
•Signals - for modeling signal generators, such as square wave generators.
•Sources - for modeling light sources, such as pulsed and continuous wave lasers, point sources, and optically rough reflectors.
Please see The LightLike User's Manual for details.